Research Brief
Canada Retail Sales
August 2022
Retail Sales Continue Up, Despite Headwinds;
Strong Real Estate Fundamentals Persist
Households elevate spending, but future trajectory is uncertain. Retail sales continued to rise in June, even with consumers facing economic headwinds, such as elevated inflation and rising interest rates, as total dollar volume increased by 1.1 per cent to $63.1 billion. In real terms, after adjusting for inflation, this translates to a 0.2 per cent month-over-month increase. Compared to the pre-pandemic level in January 2020, spending is up 21 per cent in nominal terms and 10 per cent in real terms. Contributing to these gains was a recent uptick in online spending. While e-commerce sales are down roughly 15 per cent from the peak seen at the height of the global health crisis, they are still up 5 per cent month-over-month on a seasonally-adjusted basis as of June.
Industrial vacancy at record low. Online shopping has cooled off since the historic levels seen in May 2020 and January 2021; however, it still plays a critical role in the performance of industrial real estate. Since the start of April 2020, space demand has primarily been driven by the rise in e-commerce sales. Total online sales increased roughly 120 per cent, at its peak compared to the pre-pandemic level in January 2020, resulting in ample demand for warehouse and distribution space. Between April 2020 and July 2022, roughly 60 million square feet was absorbed on net, decreasing vacancy 80 basis points to 1.1 per cent and helping lift the average asking rent by just over 20 per cent to $13.31 per square foot. Since the historic amount seen in January 2021, e-commerce activity has slowed. Despite this, sales are still up 85 per cent when compared to the pre-pandemic value. The persistence of online shopping supports a positive investment outlook for the industrial market.
Restaurants and bars seeing increased sales. Due to widespread lockdowns and capacity restrictions during the global health crisis, the restaurant industry experienced extreme hardship. In a three-month period, from February 2020 through April 2020, total restaurant and bar sales fell nearly 60 per cent and did not recover until June 2021. However, since then, sales are up 33 per cent as of May to a level not seen since the summer of 2019, suggesting that consumers are shifting back to pre-pandemic spending habits of eating out at restaurants and bars, instead of staying home and cooking. This is further exemplified by the 1.8 per cent drop in food and beverage store sales. This increased spending activity could translate into stronger leasing activity for restaurant-related real estate. Nonetheless, it is important to note that grocery spending remains strong, and food-anchored retail real estate remains a staple for investment activity.
Underlying retail fundamentals remain robust. Pent-up demand and reestablished savings resulting from the health crisis, plus a tight labour market causing strong wage growth, has helped retail fundamentals return to pre-pandemic levels. The national vacancy rate is 10 basis points below the level in 2019, and the average rent is 6.0 per cent higher. Toronto, Vancouver and Montreal have led in this recovery, each reporting vacancy below 2.0 per cent, with Vancouver being the lowest at 1.2 per cent. Retail property investment has also been robust. Owners see strong rent growth potential as retail leases tend to employ rents that are tied to gross sales figures, and with sales increasing, it supports a positive investment outlook. In the first half of 2022, there has been 60 per cent more retail property transactions than the same period in 2020, and 40 per cent more than 2019. The average price is 21 per cent higher, and cap rates have compressed by 40 basis points to 4.6 per cent since 2019.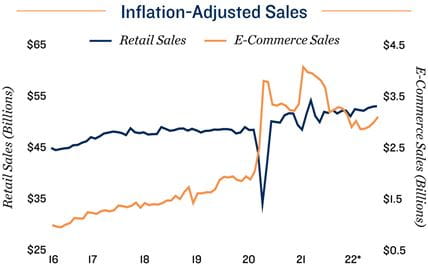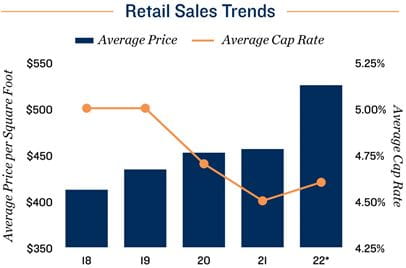 * Through June; Inflation-adjusted in 2012 dollars
Sources: Marcus & Millichap Research Services;
Bank of Canada; Capital Economics; Statistics Canada; CoStar Group, Inc.; Altus Data Solutions