Research Brief
Canada Monetary Policy
October 2023
Bank's Outlook Cautiously Optimistic;
Slower Growth May Narrow Investors' Focus
Central Bank stays put on rates amid rebalancing of economy. As expected, the Bank of Canada kept the overnight rate unchanged in October. Since the last monetary policy meeting, it has become increasingly evident that the Bank's rate hikes are working as anticipated to balance demand with supply in the economy. Elevated borrowing costs are subduing consumer spending on both goods and services. Home sales are slowing, even amid rising listings due to increasing mortgage rates. Labour shortages are also easing as the hiring pace decelerates and elevated levels of immigration bolster labour force growth. In addition, long-term government bond yields have increased notably lately, due to market expectations that interest rates will remain elevated for longer than previously anticipated. This further tightened financial conditions, which complemented the BoC's efforts to combat inflation.
BoC continued to strike hawkish tone. In the latest Monetary Policy Report, the monetary authority downgraded its GDP outlook, yet revised up inflation forecasts for 2023 and 2024. As economic growth is moderating, inflation — particularly core inflation — has proven to be sticky. Upward pressure from annual wage growth, which has averaged 5.0 per cent so far this year, is also persistently high. While the BoC still expects headline inflation to approach 2.0 per cent in 2025, the near-term path toward that goal now appears bumpier. Although the BoC held rates flat in October, it remains concerned about the risk of possible inflation re-acceleration. The Bank will stay vigilant and raise the overnight rate again if progress toward price stability is stalled.
Commercial Real Estate Outlook
Investor sentiment to improve as policy rate has likely peaked. While the BoC leaves its door open for further rate hikes, the current monetary environment has proven to be restrictive enough to cool domestic demand. The BoC is thus anticipated to remain on the sidelines until convincing new evidence warrants a policy change. For the commercial real estate community, this will aid sentiment and could lead to a recovery in transaction activity over the near term. However, the downward revision on economic activity suggests that leasing demand may soften more than expected, especially in sectors that have already demonstrated pockets of weakness, such as downtown office and urban discretionary retail. Investors may therefore become increasingly selective, pivoting toward assets with more robust fundamentals.
Industrial and multifamily favourably-positioned. Since the onset of the pandemic, surging demand has resulted in fast-declining vacancy rates and strong rent growth in both the industrial and multifamily sectors across Canada. This has led to a considerable increase in transaction dollar volume in these assets. Additionally, a flight-to-quality is well underway. Total dollar volume traded in these two sectors made up 63 per cent of total CRE investment in Canada as of the third quarter of 2023, up from just 50 per cent in 2019. As the current monetary environment is expected to exert further downward pressure on the economy, investors will likely continue to prioritize these high-performing property types to weather increasing headwinds in the near term.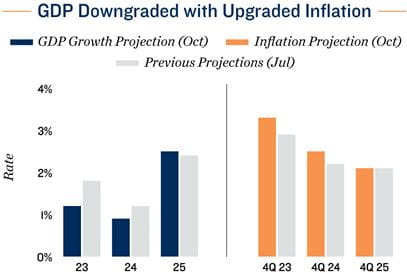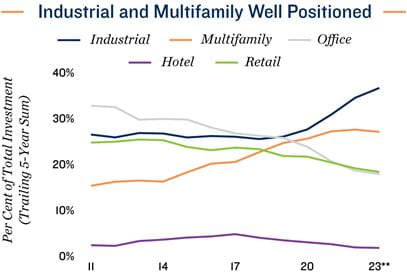 * Overnight Rate and 10-year Bond through October, Inflation through September; ** Through 3Q
Sources: Marcus & Millichap Research Services; Altus Data Solutions; Bank of Canada; Statistics Canada