Research Brief
Canada Retail Sales
September 2023
Canada's Retail Sector is Well-Positioned for Long-Run Growth,
Despite Macroeconomic Headwinds
Retail sales hold, while purchasing power tapers. Historic immigration, a tight labour market and elevated savings have supported retail sales in Canada, despite rising costs eating into consumers' real disposable incomes. Seasonally-adjusted retail sales were up 0.3 per cent monthly as of July, which translated into a 2.0 per cent annual gain. The primary driver of growth has been Canada's rapidly-expanding population. On a per-capita basis, annual inflation-adjusted retail sales have declined for four consecutive quarters. While still above levels from one year prior, real sales volumes have fallen month-over-month for three straight periods, indicating that rising interest rates are beginning to impact consumers' spending.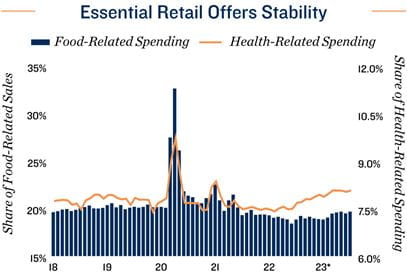 Essential retail mitigates risk in times of uncertainty. While borrowing costs are expected to stabilize in the coming months, many economists forecast interest rates to remain elevated until at least the second quarter of 2024. Due to this extended period of higher costs, consumers are likely to focus their spending on non-discretionary goods, leading to grocery-anchored retail becoming a preferred investment option. The property type tends to house tenants like supermarkets, banks, pharmacies and doctor's offices, which offer essential products or services that typically generate more stable sales in times of economic headwinds. This has already been witnessed in 2023, as seasonally-adjusted essential spending on food, beverages and personal care items were up 5.0 per cent year-over-year as of July. Although overall essential spending has remained fairly healthy, where that spending is taking place is shifting.

Suburban retail showing signs of strength. Suburban markets have benefited from the structural shift toward hybrid work, as well as Canada's historic immigration levels. Over the past few years, more residents have left urban cores, as these suburban regions tend to offer a wider array of housing options and a lower cost-of-living. This strong demand tailwind has caused suburban retail vacancy rates to trend down compared to their pre-pandemic levels. With limited new supply, competition for newly-completed space remains fierce. In contrast, available space in urban cores remains above its 2019 level as the return to work has evolved at a slower than expected pace, curbing foot traffic and retail expansion. As Canada's population is set to grow at a historic pace, and the return to office slowly regains momentum, the long-term outlook for downtown retail is optimistic — especially for smaller spaces.
Higher cost environment shifting tenant preferences. Given the current landscape of rapid inflation, heightened interest rates and labour shortages, many potential tenants have been faced with higher costs. As a strategy to minimize these growing expenses, some retailers have looked to streamline their operations and lower their space requirements. Due to this cost minimization effort, demand for relatively smaller spaces between 1,500 to 2,000 square feet have experienced an uptick in demand and healthy rent growth. On the other hand, larger spaces that require a more expensive build out are starting to see a softening in demand. Rent growth in this segment is beginning to ease, along with landlords offering larger inducement packages in order to assist with build out expenses.

Rising debt burden creates some risk for retailers. While retail sales have remained resilient in the face of rising interest rates over the first half of the year, only one-third of households in Canada have experienced an increase in mortgage payments. As more households renew their mortgages over the coming months, it is estimated that a payment increase will apply to nearly 65 per cent of these home loans by the end of 2024. Along with rising unemployment and shrinking household savings, consumer demand may experience further softening as more headwinds build. However, with the federal government setting a bold immigration target of 1.5 million new permanent residents by 2025, Canada's population is expected to expand at a rapid clip. This growing consumer base, coupled with limited retail supply, should lend support to healthy retail performance, despite near-term uncertainties.
* Through July
Sources: Marcus & Millichap Research Services; Altus Data Solutions; Capital Economics;
CoStar Group, Inc.; Statistics Canada