Research Brief
Canada Housing
September 2023
Federal Government's New Housing Initiative to
Guard Against Nationwide Supply Shortage
Annual price growth returns to positive territory. After 10-consecutive months, the median price of a single-family home in Canada was up on a year-over-year basis, increasing 1.0 per cent in August. Despite this, weakness is forming as home prices only inched up 0.3 per cent monthly, which is the smallest gain witnessed since home values began to trend up in March. With the Bank of Canada resuming its interest rate hiking cycle back in June, many potential buyers returned to the sidelines. As uncertainty loomed, home sales fell 4.1 per cent month-over-month in August. Furthermore, the supply of homes for sale continued to trend up, increasing 0.8 per cent. This smaller monthly price pick up combined with signs of easing demand and increasing supply show that the housing market is loosing momentum. The sales-to-new listings ratio eased to 56.2 per cent, which is consistent with stagnating home prices.
Nationwide housing shortage aids price stability. With Canada's population growth hitting historic levels over the past year — increasing by just over 3 per cent as of the second quarter — housing demand remains elevated despite the recent slowdown brought on by rising borrowing costs. On top of still strong demand tailwinds, residential construction costs were up 7.5 per cent year-over-year as of the second quarter and 56 per cent compared to the 2019 level. As a result, investment in single-family construction was down 30 per cent year-over-year as of July, causing Canada's housing supply-demand imbalance to increase significantly over the past year. This supply shortfall may prevent any large-scale price drops and could lend support to further price gains, albeit at a muted pace.
Commercial Real Estate Outlook
Apartment rental market also lacking supply. With Canada's population sitting just below 40 million people as of the second quarter, coupled with the federal government's bold immigration target of 1.5 million newcomers over the next three-years, the apartment rental market is becoming a main provider of housing. Due to these strong demand drivers, Canada's multifamily vacancy rate is forecast to end the year sub-2 per cent, which is expected to support annual rent growth of 6.1 per cent. As a result, Canada's apartment rental market is also becoming out of reach for a growing share of Canadians as ongoing construction headwinds are causing housing demand to outpace supply. With Canada's population growth expected to surpass last year's record levels, coupled with a 20 per cent year-over-year reduction in multifamily construction investment as of July, supply-side challenges need to be addressed in order to provide affordable housing for Canada's growing population.
Federal government takes aim to address housing supply. In September, Canada's federal government announced a tax rebate in a bid to kick-start construction on rental units amid a surge in housing costs and increased demand from residents and newcomers. Going forward, purpose-built rental developers will now receive a 100 per cent tax rebate for GST and the federal portion of HST. This is up from the previous 36 per cent rebate builders used to receive and is the federal government's first major step in attempting to increase Canada's overall housing supply. With many developers pausing ongoing projects due to rising costs, this new tax incentive is likely to spur development over the coming year.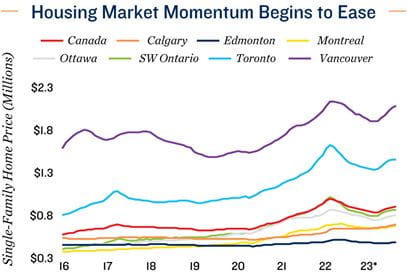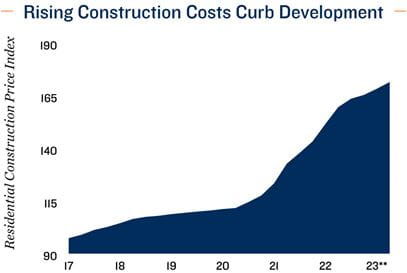 * Through August; ** Through 2Q
Sources: Marcus & Millichap Research Services; Altus Data Solutions; Canada Mortgage and Housing Corporation;
Capital Economics; CoStar Group, Inc.; Statistics Canada