Research Brief
Canada Construction
September 2023
Developers Favour Select Property Types as
Building Intentions Show Signs of Stabilizing
Interest rate stabilization could aid development activity. The total value of building permits in Canada declined 1.5 per cent month-over-month in July, which was mainly fueled by an 11.5 per cent drop in non-residential construction intentions. This comes after institutional permitting surged in June, as high-valued hospitals began the construction process. Despite this overall decline, residential construction intentions appear to gain further momentum as interest rate uncertainty is slowly mitigating and housing prices continue to trend up. Permitting activity rose 5.4 per cent monthly, with single-family construction intentions seeing a third consecutive monthly gain. Meanwhile, multifamily development intentions were up annually and only sat 5.8 per cent below last year's peak.
Optimism growing for residential builders. With the Bank of Canada holding its policy rate unchanged in September, coupled with historic population growth, residential development activity is likely to gain momentum heading into 2024. Borrowing costs are forecast to peak in the near-term, with potential cuts as early as the first quarter of next year. On top of capital markets stability, many levels of government are finding creative solutions to increase Canada's housing supply. In Calgary, the government has implemented the Downtown Development Incentive Program in order to convert underutilized office space to residential use. The More Homes Built Faster Act was introduced by the government in Ontario, with the hopes of developing 1.5 million new homes over the next 10 years. Lastly, Vancouver has proposed its 3x3x3x1 initiative to speed up development timelines and reduce costs.
Commercial Real Estate Outlook
Supply-demand imbalance remains. Despite residential construction gaining some momentum in the second quarter, the smoothed trend cycle suggests total permitting was down 8.5 per cent year-over-year and 10 per cent compared to the 2022 peak. With the BoC increasing its policy rate 475 basis points over 18 months, many builders moved to the sidelines. Coupled with Canada's historic population growth over the past year, the nation's housing supply-demand imbalance has increased significantly. It is estimated that Canada needs to build an additional 3.5 million new homes above the current level of construction in order to achieve affordability. Limited housing supply has created ownership hurdles for potential homebuyers and redirected demand toward the apartment rental sector. By the end of 2023, it is estimated that the national vacancy rate will hover just below 2.0 per cent, supporting annual rent growth of 7.0 per cent. As a result, multifamily development intentions have better weathered rising costs.
Industrial fuels non-residential construction. Given the rapid increase in e-commerce and logistics activity brought on by the global health crisis, the national industrial vacancy rate sat at 1.4 per cent as of the second quarter. This has supported five consecutive quarters of near-20 per cent annual rent growth. Many investors have shifted to industrial development in order to keep pace with robust demand and capitalize on strong underlying fundamentals. Industrial permitting was up 55 per cent year-over-year as of July. Healthy development activity is likely to continue over the coming year as vacancy is forecast to remain at a subdued level.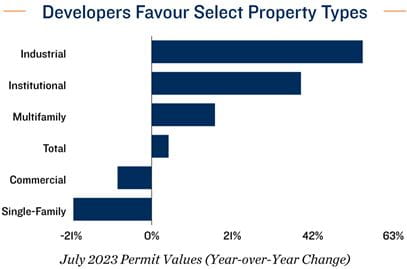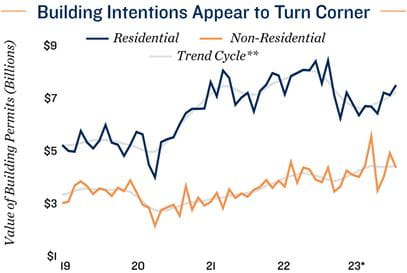 * Through July; ** Smoothed version of seasonally-adjusted time series
Sources: Marcus & Millichap Research Services; Altus Data Solutions; Canada Mortgage and Housing Corporation;
CoStar Group, Inc.; Statistics Canada