Research Brief
Canada Housing
August 2023
Housing Market Continues to Recover, But
Early Indicators Suggest Softening Ahead
Price gains persist, despite rising interest rates. The median price of a single-family home in Canada increased 1.3 per cent monthly in July, with all major metros witnessing a price lift. While the national median price is still down 1.1 per cent year-over-year, it has been on the rise since the Bank of Canada's conditional interest rate pause in March — sitting 8.2 per cent above the February trough. However, momentum is beginning to cool. With the BoC resuming its monetary tightening cycle in June, uncertainty has returned to the market, pushing some buyers back to the sidelines. National home sales edged down 0.7 per cent month-over-month in July — the first drop in six months — while the number of newly-listed properties rose 5.6 per cent. As a result, the sales-to-new listings ratio contracted to 59.2 per cent, indicating a more balanced market between buyers and sellers.
Price gains likely to continue, although at a slower pace. With the Bank of Canada resuming its rate hiking cycle in June, single-family price growth may moderate over the coming months. Higher interest rates are expected to further curb buyer enthusiasm, while possibly forcing the hand of some current owners to sell. This will translate into moderating demand and a potential uptick in supply, which could push the sales-to-new listings ratio closer to a buyers market. However, given limited housing supply across the country in both the ownership and rental markets, coupled with historic population growth amid record levels of immigration, prices are still expected to trend up slightly over the coming months despite uncertainty surrounding borrowing costs.
Commercial Real Estate Outlook
Supply-demand imbalance increasing. In 2022, Canada's population grew by just over 1 million people for the first time in the nation's history. This translated into a 2.7 per cent annual gain, which was the largest yearly change on record since the 1950s. Looking forward, elevated population growth is expected to continue. Canada's population has already increased by 300,000 people in the first quarter of 2023, and the nation is planning to welcome 1.5 million new immigrants by 2025. While this influx of people has resulted in fierce housing demand, new home starts have trended down for two consecutive years. Home starts were down roughly 10 per cent over the first half of 2023 when compared to the same time period last year. As a result, Canada's housing supply-demand imbalance is continuing to expand, causing affordability challenges across the country. This will likely result in further price growth, despite rising borrowing costs eating into buyers' real disposable income.
Multifamily remains well-positioned. Due to Canada's rapid population growth, apartment rentals have been a top-performing asset in recent years. This trend has continued into 2023 with the national vacancy rate forecast to track down once again, ending the year at 1.7 per cent, which is expected to keep annual rent growth elevated at 7.1 per cent. Total dollar volume transacted over the trailing 12 months ending in June was down roughly 50 per cent annually as rising interest rates curbed investor sentiment. However, robust underlying fundamentals, coupled with the expected stabilization of interest rates over the coming months, will likely cause transaction activity to gain momentum heading into 2024.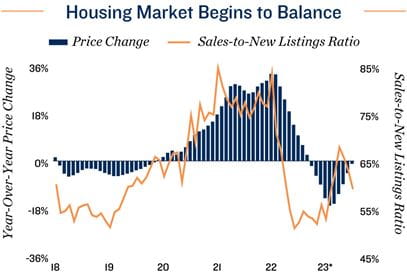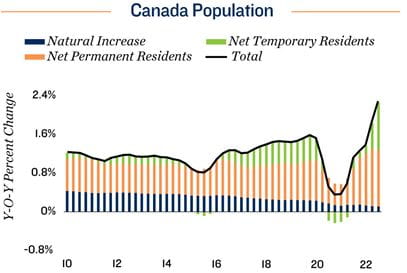 * Through July
Sources: Marcus & Millichap Research Services; Altus Data Solutions; Bank of Canada;
Canada Mortgage and Housing Corporation; Capital Economics; CoStar Group, Inc.; Statistics Canada