Research Brief
Canada Construction
August 2023
Building Intentions Experience Second
Consecutive Month of Healthy Gains
Conditional interest rate pause aided construction. After the Bank of Canada's conditional rate pause in March, construction intentions appeared to gain some momentum. In May, the total value of building permits issued rose 12.6 per cent monthly, followed by a 6.1 per cent increase in June. While these recent upticks were mainly fueled by the non-residential sector, which saw a 20.4 per cent monthly rise in June, residential development intentions also began to trend up over the first half of the year. As of the second quarter, the value of residential building permits issued rose 2.9 per cent compared to the end of last year, largely driven by a 12.4 per cent increase in multifamily development. Despite building activity appearing to reach an inflection point, single-family construction continued to lag. This resulted in total residential permitting being down 16.8 per cent annually as of June, due to rising interest rates pushing many builders to the sidelines.
Building activity may gain further momentum. In June, the Bank of Canada resumed its interest rate hiking cycle after two consecutive pauses. These recent construction gains could begin to ease as some uncertainty returns to the market. However, with recent data hinting toward an additional rate pause in September, which may mark the end of the Central Bank's monetary tightening cycle, many developers might emerge from the sidelines as large volumes of deployable investment capital look to take advantage of Canada's record population growth. Due to this, building intentions could continue to trend up over the final quarter of the year and into 2024 as uncertainty is expected to abate.
Commercial Real Estate Outlook
Manufacturing development gains steam. In Canada's most recent federal budget, the government allocated $12 billion in tax credits and incentives for cleantech manufacturing. This recent allocation, coupled with the emerging trend of nearshoring, is aiding Canada in carving out a key piece in the global supply chain of electric vehicle battery manufacturing. Most recently, this has been highlighted by Stellantis and Volkswagen both choosing Southwestern Ontario as the location for their new EV battery manufacturing facilities, along with General Motors investing $300 million into a new facility located in Bécancour, Québec. As a result, construction activity in Canada's manufacturing sector has seen a significant increase over the past year, now sitting roughly 60 per cent above the level seen in early 2022. This trend is likely to continue looking forward as firms with a large American consumer base look to nearshore production and mitigate supply chain risks revealed during the pandemic.
Further housing supply needed. Despite residential development activity gaining momentum, further supply is needed in order to address Canada's housing affordability hurdles. With residential construction intentions down 16.8 per cent annually as of June, coupled with record population growth witnessed in 2022, Canada's housing supply-demand imbalance has increased drastically over the past year. This is likely to be furthered over the coming years as new home starts in Canada are down roughly 10 per cent annually through the first half of 2023 and are forecast to decline further in 2024; while at the same time, Canada is planning to welcome roughly 1.5 million new residents by 2025.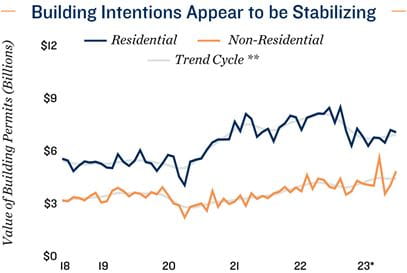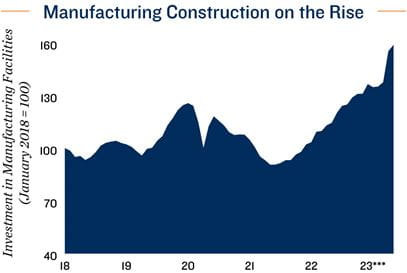 * Through June; ** Smoothed version of seasonally-adjusted time series; *** Through May
Sources: Marcus & Millichap Research Services; Altus Data Solutions; Capital Economics;
CoStar Group, Inc.; Statistics Canada