Research Brief
Canada Housing
July 2023
Housing Rebound Continued in June;
Likely Moderation Ahead Amid Renewed Rate Hikes
Housing market trends up once again. In June, Canada's housing market continued its recovery, with the average price of a single-family home increasing for the fourth consecutive month — up 2.1 per cent when compared to May. While the average price is still down 4.5 per cent year-over-year, Canada's housing market has seen robust gains since the February 2023 trough, as the average price rose 7.3 per cent. This momentum can largely be attributed to the Bank of Canada's conditional interest rate pause witnessed in the early parts of 2023, along with limited housing supply across the nation. Housing construction continues to lag historic population growth, and the number of newly-listed properties remains below the country's long-term average. As a result, the sales-to-new listings ratio once again indicated a sellers market, sitting at 64 per cent. Gains were broad-based with all of Canada's major metros seeing a monthly rise in the average sale price.
Momentum likely to ease. With the BoC returning from the sidelines in June, raising its policy rate a further 50 basis points to 5.0 per cent, Canada's housing market recovery may lose momentum. Since July's rate hike, the average fixed-rate mortgage is up to just below to 6.0 per cent, while variable rates are hovering just above 7 per cent. This uptick in borrowing costs, coupled with rising prices, may cause buyer enthusiasm to cool — which was reflected in the slower pace of re-sale growth seen in June. Additionally, new listings outpaced sales for the second straight month. Price appreciation is likely to continue, albeit at a slower pace, given limited housing supply and historic population growth.
Commercial Real Estate Outlook
Elevated borrowing costs to further curb supply. While the BoC's conditional interest rate pause in early 2023 was one reason Canada's housing market began to stabilize, limited supply played a larger role in the housing market turnaround. This supply shortfall will likely be amplified over the coming years as rising interest rates are further curbing residential construction intentions. The total value of building permits issued for multifamily dwellings was down roughly 6 per cent annually as of May, while single-family construction was down by just over 30 per cent. With this slowdown in building activity and historic immigration levels, Canada's housing supply-demand imbalance is anticipated to grow over the coming years. In order to achieve affordability, it is estimated that Canada needs to build 5.8 million new homes by 2030; however, at the current rate of construction, Canada is only expected to reach 40 per cent of this target. Home prices, as a result, are expected to continue to trend up, despite the BoC resuming its rate hiking cycle.
Multifamily fundamentals to support investment activity. After the BoC's recent interest rate hike, it is widely believed that this was the last of its cycle. Commercial real estate investment activity is expected to gain momentum over the coming months as pricing begins to recalibrate amid clearer property underwriting conditions. This is especially true for apartment rentals with underlying fundamentals remaining extremely healthy, given limited supply and historic population growth. The national vacancy rate is forecast to end the year sub-2 per cent, helping annual rent growth surpass 5 per cent.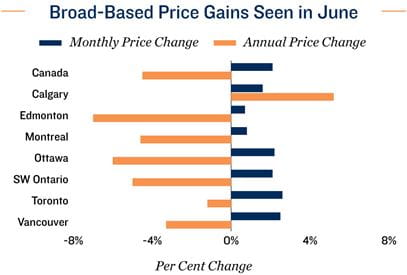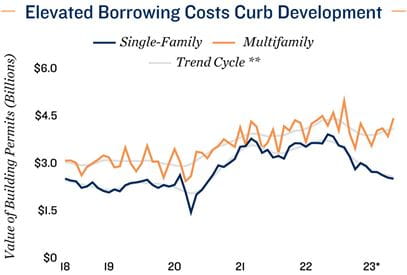 * Through May; ** Smoothed version of a seasonally-adjusted time series
Sources: Marcus & Millichap Research Services; Altus Data Solutions; Bank of Canada;
Canada Mortgage and Housing Corporation; Capital Economics; CoStar Group, Inc.; Statistics Canada