Research Brief
Canada Employment
July 2023
Canada's Labour Market Returns to Positive
Growth Territory Amid Historic Immigration
Canada sees further employment gains. In June, Canada's economy added roughly 60,000 jobs, bringing the year-to-date total to just over 290,000. This monthly surge, which was well above the consensus estimate of 20,000, fully reversed the surprise 17,300 drop in May — the first labour market contraction in eight months. Job growth in June was primarily driven by full-time employment, with Ontario seeing the largest monthly increase. As a result, Canada's employment gains year-to-date are up roughly 30 per cent when compared to the same time period last year as the economy continues to absorb higher borrowing costs better than expected. Despite this surge in employment, the jobless rate ticked up 20 basis points to 5.4 per cent. This was due to rapid population growth amid historic immigration, leading to the number of people looking for work expanding at an even faster pace.
Conflicting information for the Bank of Canada. As Canada's labour market continues to show resilience, it remains likely that the Central Bank will raise its overnight rate by 25 basis points to 5.0 per cent at its upcoming July meeting. However, with the unemployment rate tracking up for two consecutive months — now sitting at a 16-month high — coupled with wage growth slowing sharply to 4.2 per cent annually in June, a rate pause remains a possibility. The overnight rate is anticipated to stabilize over the second half of the year. As a result, property valuations are likely to recalibrate over the coming months as price expectation gaps between buyers and sellers mitigate. Commercial real estate transaction activity may gain momentum over that period.
Commercial Real Estate Outlook
Industrial employment outpacing average. Through the first half of 2023, manufacturing, along with transportation and warehousing, have seen some of the strongest job gains in Canada. As of June, employment in the manufacturing sector was up 2.7 per cent annually, whereas transportation and warehousing saw an annual increase of 5.3 per cent — both outpacing the 2.4 per cent year-over-year average. These robust gains can largely be attributed to easing supply chains, which allow for easier access to input materials during the manufacturing process, as well as ongoing e-commerce/third party logistics demand. With nearshoring continuing to gain momentum as companies look to manufacture goods domestically, coupled with changing consumer preferences keeping e-commerce-related spending elevated, healthy industrial space demand is expected to be maintained. Rent growth, as a result, is forecast to remain above its long-term average, hovering just above 10 per cent.
Retail remains well-positioned. Canada's wholesale and retail industry has experienced the largest rise in employment throughout the first half of 2023, with roughly 98,000 positions added. This comes on the back of rising retail sales, which are up roughly 3 per cent year-over-year as of April. Due to this, underlying fundamentals within Canada's retail sector have remained healthy, with the national vacancy rate hovering around 2 per cent as of the end of the second quarter. As rising borrowing costs are slowly being absorbed by the economy more broadly, retail sales growth is expected to soften. However, limited supply and still healthy demand will likely allow Canada's retail sector to weather a short-term slowdown.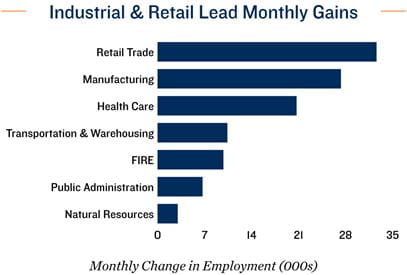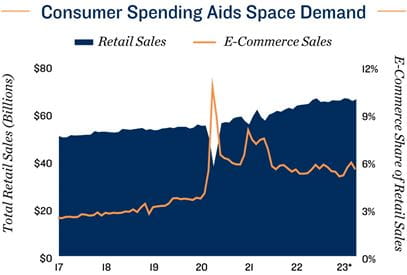 * Through April
Sources: Marcus & Millichap Research Services; Altus Data Solutions; Bank of Canada;
Canada Mortgage and Housing Corporation; Capital Economics; CoStar Group, Inc.; Statistics Canada