Research Brief
Canada Retail Sales
June 2023
Retail Sales Regain Momentum to Start Second Quarter;
Essential Products Show Strength
Retail sales up in most of Canada's major metros. In April, Canada's retail sales surpassed expectations and rose 1.1 per cent monthly. After accounting for inflation, this translated into a 0.3 per cent gain. On an annual basis, sales expanded 2.9 per cent, which indicates that households are absorbing higher borrowing costs better than expected. This is due in part to higher savings than in pre-pandemic times, as well as robust immigration and a healthy labour market, which is cushioning the impact of declining real disposable incomes. In April, gains were broad-based, with retail sales up in all but two provinces and eight of nine sub-sectors. Toronto witnessed the most substantial monthly increase among major metros at 1.4 per cent. Nationally, essential products like food and beverage, as well as health and personal care, saw monthly sales rise a combined 1.4 per cent.
Further rate hike likely. With retail sales beating expectations and preliminary estimates suggesting a 0.5 per cent monthly gain in May, it is becoming more likely that GDP growth will remain positive in the second quarter. Coupled with a healthy labour market and elevated inflation, the Bank of Canada may raise its overnight rate again in July. This ongoing uncertainty could further curb commercial real estate transaction activity in the short-term. Underwriting remains a challenge, and price expectation gaps exist between many buyers and sellers. With interest rates still anticipated to stabilize over the second half of the year, sales activity may gain momentum by year-end as large volumes of deployable capital could look to take advantage of healthy underlying fundamentals for almost all assets.
Commercial Real Estate Outlook
Emerging demand drivers materializing in industrial sector. The share of total retail sales for e-commerce dropped to 5.5 per cent in April. Despite this, the share of online sales remains well above its pre-pandemic average of 3.0 per cent. This was one factor that caused the national industrial vacancy rate to fall 70 basis points to 1.1 per cent between 2020 and 2022, which helped the average asking rent to grow by just under 40 per cent. While e-commerce sales may ease further, new demand drivers are emerging within the manufacturing sector. In April, manufacturing sales rose 0.3 per cent monthly, and Canada's manufacturing PMI index indicated sector expansion in three of the first five months of this year. Motor vehicle and parts sales also rose 0.5 per cent in April as a further easing of supply shortages are supporting a sector recovery. While an influx of new supply in 2023 may cause a slight uptick in vacancy, fundamentals are expected to remain extremely healthy.
Essential retail favoured in times of uncertainty. With growing economic headwinds, single-tenant assets or those with a food-related component are likely to outperform. These properties tend to be more stable in times of uncertainty, due to the essential nature of the products offered and their ability to attract well-established tenants. For example, grocery-related and restaurant spending have seen positive monthly sales growth in each of the first four months of 2023. Health and personal care spending has also witnessed 14 consecutive months of rising sales. As a result, investor sentiment may remain slightly more positive for these select retail assets, despite a potential slowdown in overall sales.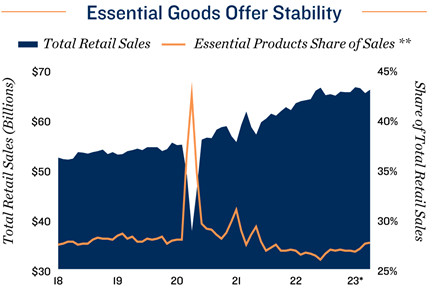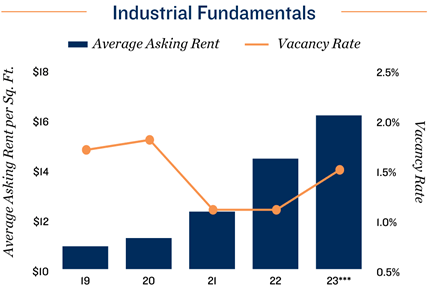 * Through April; ** Essential products include food and healthcare spending; *** Forecast
Sources: Marcus & Millichap Research Services; Altus Data Solutions; Bank of Canada; Capital Economics; CoStar Group, Inc.; Statistics Canada