Research Brief
Canada Housing
June 2023
Housing Prices Continued to Climb;
Further Interest Rate Hikes May Slow Momentum
Average home price rises for third consecutive month. National home sales climbed 5.1 per cent month-over-month in May, as it appears that Canada's housing market has turned and demand is continuing to outpace supply. The average price of a single-family home increased 2.7 per cent monthly in May, which translated into a 5.4 per cent gain when compared to the February 2023 trough. These monthly gains were broad-based, with sales and prices up in almost all of Canada's major metros. This housing recovery can partially be attributed to an uptick in demand due to the Bank of Canada's conditional interest rate pause in the early part of 2023, but also because of limited housing supply across the country. While the number of newly-listed properties did rise 6.8 per cent monthly in May, listings are still at a historically low level, with the sales-to-new listings ratio sitting at 68 per cent — indicating a sellers market.
Central Bank's return from the sidelines may cool momentum. With the BoC resuming its interest rate hiking cycle, Canada's housing market recovery may ease. Since the Bank's additional 25 basis point increase in its overnight rate at its June meeting — bringing it to 4.75 per cent — fixed-rate mortgages have risen 30 basis points on average, while variable rate mortgages have seen a 25 basis point increase. As borrowing costs increase once again, potential buyers may remain on the sidelines until uncertainty abates further. However, with the sales-to-new listings ratio indicating a sellers market, coupled with limited housing supply, it is more likely that Canada's housing market continues its recovery as demand outpaces supply amid historic immigration and population growth.
Commercial Real Estate Outlook
Limited supply aids housing market recovery. While the BoC's conditional interest rate pause was one reason Canada's housing market began to stabilize, limited supply likely played a larger role in the housing market turnaround. Over the long-term, this supply shortfall could further hinder affordability hurdles, which were likely amplified over the past year as rising borrowing costs curbed development activity. Through the first five months of 2023, new home starts were down roughly 11 per cent year-over-year, while Canada's population grew 2.7 per cent, the highest growth rate in 65 years. This expanding supply-demand imbalance will not only support a further recovery in Canada's housing market, but redirect potential owners to the apartment rental sector as homeownership remains a challenge for a growing share of Canadians.
Multifamily a top performer. In 2022, Canada's apartment rental sector saw vacancy fall to 1.9 per cent, helping rent growth reach 7.3 per cent annually. Investor enthusiasm remained positive for multifamily properties. While elevated borrowing costs curbed investment activity over the latter half of last year, apartment rentals were the second-most traded asset in terms of total dollar volume. With homeownership remaining a challenge, coupled with historic population growth, fundamentals are likely to remain healthy. While rising borrowing costs have resulted in price expectation gaps, causing transaction activity to stall, financing costs are likely to stabilize over the second half of the year. This may support an uptick in transaction activity as pricing recalibrates and investors look to capitalize on robust demand.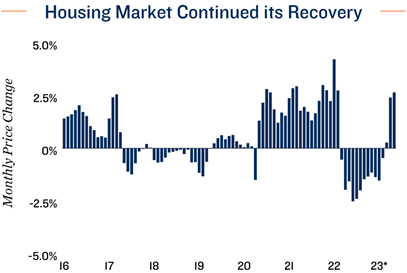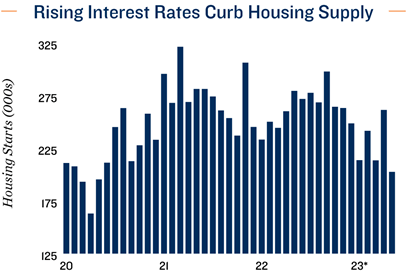 * Through May
Sources: Marcus & Millichap Research Services; Altus Data Solutions; Bank of Canada;
Canada Mortgage and Housing Corporation; Capital Economics; CoStar Group, Inc.; Statistics Canada