Research Brief
Canada Construction
June 2023
Development Activity Reaches Multi-Year Low;
Potential Uptick in the Second Half of the Year
Construction slows, but inflection point could be near. In April, the total value of building permits issued fell 19 per cent monthly as elevated financing, labour and material costs continued to hinder development intentions. Following a record high in March, the total value of non-residential permits fell 35 per cent monthly in April, mainly driven by a 50 per cent drop in industrial construction activity. This significantly lower industrial permitting was mainly attributed to exceptionally high volumes of large-scale projects in March. Consequently, the long-term trend remains positive as developers look to keep pace with still healthy industrial-related space demand. In the residential sector, permitting activity fell for the second consecutive month, down 6 per cent monthly. With borrowing costs and home prices showing signs of stabilizing, residential development activity may be nearing its trough.
Residential development may gain momentum in coming months. Between February 2022 and March 2023, the average price of a single-family home in Canada fell 17 per cent amid the Bank of Canada raising its overnight rate 425 basis points. This decline in home values, coupled with rising construction costs, caused many developers and investors to pause building activity and move to the sidelines. As a result, new home starts in Canada fell nearly 30 per cent between May 2022 and the start of this year. With housing prices trending up over the previous three months and interest rates showing signs of stabilizing, new home starts may gain momentum over the second half of 2023 as April was the first month this year that home starts were on par with its 2022 level.
Commercial Real Estate Outlook
Further housing needed. With Canada achieving historic immigration, coupled with ongoing homeownership challenges, more housing is necessary. Despite early signs suggesting that residential construction may be nearing an inflection point, levels of government and the real estate community need to align policy to support further population growth and help mitigate Canada's supply-demand imbalance. It is estimated that Canada needs to build 5.8 million new homes by 2030; however, based off the current rate of construction, it is likely only 40 per cent of this target will be reached. This is especially true for the apartment sector as limited supply is creating affordability hurdles in the rental market as well. At the end of 2022, apartment vacancy was 1.9 per cent, helping rent growth reach 7.3 per cent annually — the largest change on record.
Industrial development remained resilient. Between 2020 and 2022, the national industrial vacancy rate fell 70 basis points to an all-time low, helping the average asking rent grow 40 per cent. These positive fundamentals were due to robust e-commerce-related demand brought on by changing consumer behaviour amid the global health crisis. As a result, industrial permitting rose 35 per cent annually in 2022, despite rising costs, as market participants attempted to keep pace with healthy demand. In 2023, this trend continues to hold as permitting activity increased each month throughout the first quarter. Consequently, industrial vacancy is expected to increase slightly in 2023 as an influx of new supply enters the market. Despite this increase in inventory, underlying fundamentals will likely remain healthy, supporting further development.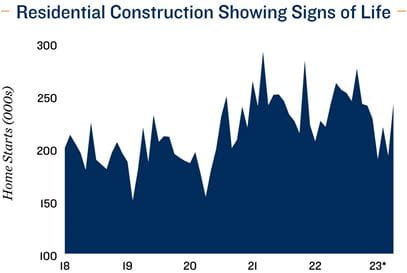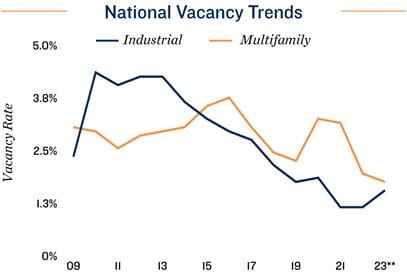 * Through April; ** Forecast
Sources: Marcus & Millichap Research Services; Altus Data Solutions; Bank of Canada;
Canada Mortgage and Housing Corporation; Capital Economics; CoStar Group, Inc.; Statistics Canada