Research Brief
Canada Housing
May 2023
Average Home Price Edges Up Once Again as
Buyers Emerge from the Sidelines
Momentum grows as borrowing costs have likely peaked. In April, national home sales surged 11.3 per cent monthly, helping the average price of a single-family home increase by 1.9 per cent. This is the second consecutive monthly gain as it appears that Canada's housing market is beginning to stabilize on the back of the Bank of Canada's conditional interest rate pause. While the number of newly-listed properties inched up 1.6 per cent monthly in April, supply remained at a 20-year low, as there have been no indications of forced selling amid rapidly rising borrowing costs. With sales gains vastly outpacing new listings, the sales-to-new listings ratio jumped to 70.2 per cent, indicating the market is once again favouring sellers. Sales and price gains were broad-based, but were dominated by Vancouver and Toronto. Despite promising signs emerging, on an annual basis, the average price remained down 12.8 per cent as rapidly rising interest rates curbed buyer enthusiasm through 2022.
Barriers to ownership persist. Even with the average home price falling roughly 17 per cent from the February 2022 peak to the February 2023 trough, near-zero interest rates spurred rapid price growth over the early parts of the global health crisis. As a result, the average price of a single-family home remained 32 per cent above the level witnessed at the onset of 2020, when affordability was already a challenge. With mortgage rates showing signs of stabilizing, a further uptick in sales activity is likely as potential buyers look to get ahead of the market. Home prices will likely continue to trend up over the coming months, furthering long-term affordability hurdles and supporting the need for additional purpose-built rentals.
Commercial Real Estate Outlook
Lack of construction provides price floor. With the Central Bank increasing its policy rate 425 basis points over the past year, Canada's housing market cooled. This was a major factor behind the 17 per cent annual decline in home prices. As a result, many builders moved to the sidelines and paused new construction, which caused residential development intentions to fall roughly 15 per cent between February 2022 and March 2023. During that time, Canada's population grew by roughly 3 per cent amid historic immigration, putting further pressure on Canada's housing supply-demand imbalance. It is estimated that Canada needs to build 5.8 million new homes by 2030 to reach affordability, which is well above the 2.3 million to be built at the current rate of construction. This lack of new supply, coupled with robust population growth, has helped home prices stabilize, despite heightened interest rates continuing to make their way through the economy more broadly. Nonetheless, with home prices and borrowing costs leveling off, an uptick in development activity may occur over the coming months.
Multifamily well-positioned. In 2022, national apartment vacancy fell 120 basis points to 1.9 per cent, helping rent growth reach 7.3 per cent annually. While limited supply played a key role in the sector's performance, robust demand due to immigration and homeownership challenges aided fundamentals. With historic immigration likely to continue, coupled with a prolonged period of elevated interest rates and rising housing prices, the multifamily sector should continue to experience healthy demand as new arrivals and potential owners are redirected toward the apartment rental market.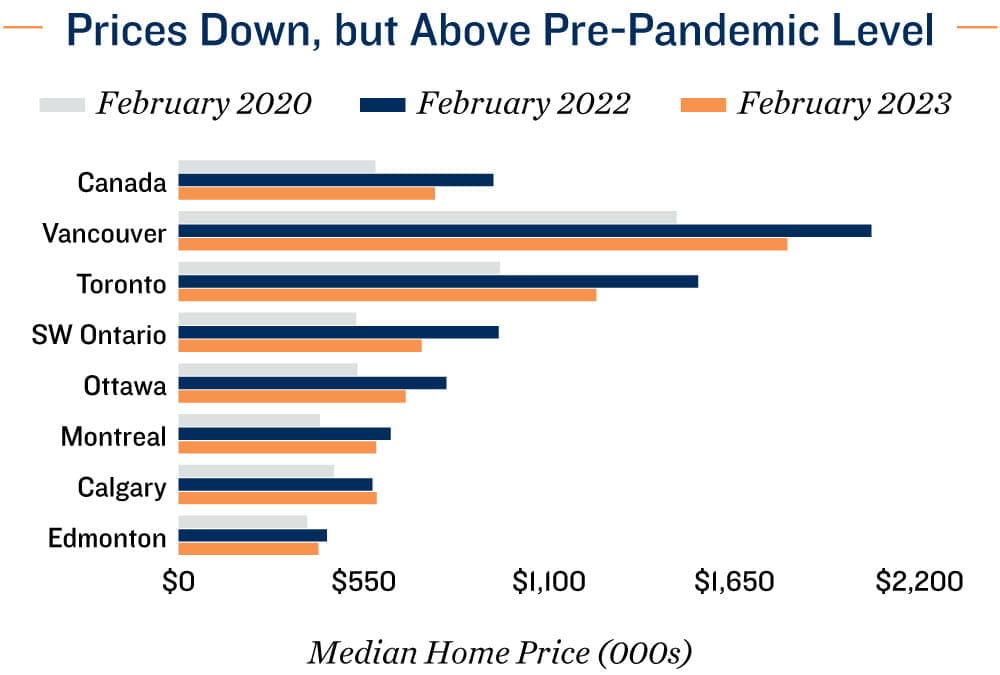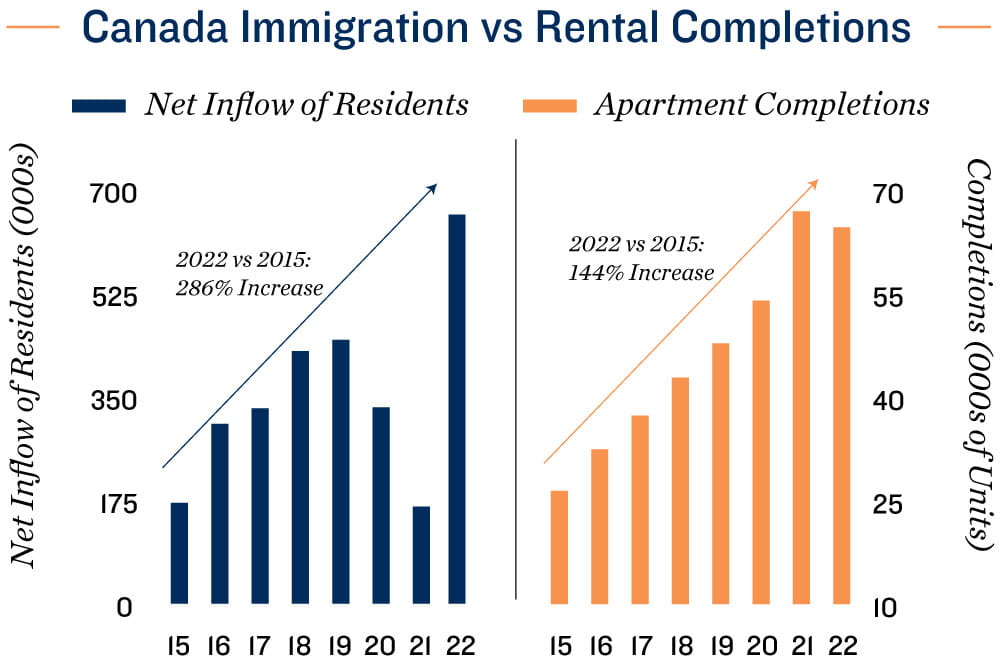 Sources: Marcus & Millichap Research Services; Bank of Canada;
Canada Mortgage and Housing Corporation; Canadian Real Estate Association; Capital Economics; Statistics Canada