Research Brief
Canada Employment
May 2023
Labour Market Remains Resilient, Despite
Heightened Borrowing Costs
Canadian economy continued to create jobs. For the seventh consecutive month, Canada's labour market expanded and beat expectations by adding 41,400 jobs in April. Total employment gains for the first four months of 2023 sat just below 250,000 jobs, which is on par with the 2022 level despite elevated interest rates working their way through the economy more broadly. While job creation in April was solely a byproduct of part-time employment gains, the unemployment rate sat at 5.0 per cent, which has remained unchanged since December 2022 as Canada's labour force continued to climb on the back of historic immigration. Wage growth also remained constant in April, sitting at 5.2 per cent year-over-year.
Bank of Canada monitoring labour market. With annual wage growth unchanged, the BoC will take notice as elevated growth creates further inflationary pressures. Nonetheless, cracks are beginning to emerge as full-time employment contracted by 6,000 jobs in April and job vacancies continued to trend down. Consequently, Canada's labour market, and thus wage growth, is expected to soften over the latter half of 2023 as the economy absorbs this new, higher-cost environment. The BoC, as a result, will likely hold its policy rate at 4.5 per cent. With interest rates showing signs of stabilizing, price expectation gaps between buyers and sellers of commercial real estate may mitigate over the coming months, which could cause market participants to emerge from the sidelines. Transaction activity will likely gain momentum in the latter half of 2023, as large volumes of deployable capital look to get ahead of the market and take advantage of healthy fundamentals for almost all property types.
Commercial Real Estate Outlook
Industrial-related employment remains healthy. As of April, roughly 50 per cent of the sectors experiencing employment gains in 2023 were industrial space-using industries, with transportation and warehousing leading the way. Since the start of 2020, e-commerce-related activity has witnessed robust gains as retailers adapted to changing consumer behaviour. Due to this, the national industrial vacancy rate fell 70 basis points to 1.1 per cent as of the end of 2022. This year, while online activity is anticipated to cool, e-commerce-related employment and space demand continues to persist, with transportation and warehousing being a leading employer in April. Additionally, with nearshoring gaining momentum due to ongoing supply chain risks, manufacturing will likely emerge as a new demand driver, which was again indicated in April as the sector added roughly 3,000 jobs. This is especially true in Ontario, as the region is becoming a hotbed for EV battery manufacturing.
Healthy labour market aids retail sector. With the unemployment rate near a historic low, coupled with elevated wage growth, inflation-adjusted retail sales were up 1.4 per cent annually in February as Canada's healthy labour market cushions the blow of elevated interest rates. Nonetheless, as heightened borrowing costs continue to impact the economy more broadly, sales are expected to slow over the coming months. Retail properties, however, still remain relatively attractive to many investors, especially grocery-anchored strip centres as these assets offer essential products with a wide range of tenants. These characteristics result in stable sales in times of uncertainty, as well as mitigated risk through tenant diversification.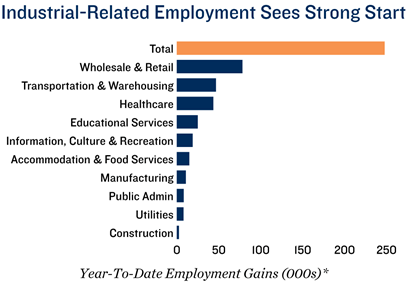 * Through April
Sources: Marcus & Millichap Research Services; Altus Data Solutions; Bank of Canada; Capital Economics; CoStar Group, Inc.; Statistics Canada