Research Brief
Canada Construction
May 2023
Commercial Construction Surges, While Residential
Development Stalls Amid Rising Costs
Construction climbs, but advances in residential sector needed. In March, the total value of building permits in Canada advanced 11.3 per cent monthly, led by a 32 per cent rise in non-residential development. This boost in commercial permitting activity was mainly due to an uptick in the industrial sector, as builders attempt to keep pace with robust demand. On the residential side, construction intentions continued to lag population growth as the value of building permits dropped roughly 1 per cent monthly in March, translating into a 16 per cent annual decline. British Columbia, however, saw hefty gains, as residential permitting advanced 31 per cent monthly. These gains were largely offset by an 8 per cent drop in Ontario and Québec, as well as a 5 per cent decline in Alberta.
Lack of residential construction furthers affordability hurdles. With the Bank of Canada's policy rate increasing 425 basis points over the past year, Canada's housing market cooled, which was a major factor behind the 16 per cent annual decline in permit activity. During that same time, Canada's population grew by roughly 3 per cent, which has put further pressure on Canada's housing supply-demand imbalance. Consequently, it is estimated that Canada needs to build 5.8 million new homes by 2030 to reach affordability, which is well above the current rate of construction of 2.3 million. Development activity must increase significantly in order to meet these housing needs and mitigate affordability hurdles. Government incentivization is one option to encourage construction; however, a more efficient regulatory system would allow for faster development and re-zoning approvals, which could meaningfully increase supply.
Interest rate stabilization to aid residential construction. With borrowing costs surging over the past year, Canada's average home price dropped 17 per cent between February 2022 and March 2023. Additionally, in Canada's largest market, Toronto, new home sales plummeted 76 per cent annually in February. Consequently, builders moved to the sidelines and paused new construction as costs continued to rise, while sale prices fell. With interest rates showing signs of stabilizing, development may see an uptick over the latter half of the year as uncertainty abates across the country. However, further government support is needed to incentivize residential development as not only financing costs have risen, but also material and labour costs as residential building construction prices are up roughly 11 per cent year-over-year as of the end of the first quarter.
Limited supply benefiting multifamily fundamentals. In 2022, national apartment vacancy fell 120 basis points to 1.9 per cent, helping rent growth reach 7.3 per cent annually — both of which were the largest changes on record. While healthy demand due to historic immigration played a key role in the sector's performance, limited supply also contributed as new space lagged population growth. Additionally, supply has been further restricted over the past year as rising interest rates and construction costs have curbed new builds. With borrowing costs likely at their peak, however, multifamily development may increase as investors look to capitalize on strong underlying fundamentals and persistent demand. Nonetheless, with ownership challenges growing, coupled with historic immigration, further action is needed to encourage large-scale development.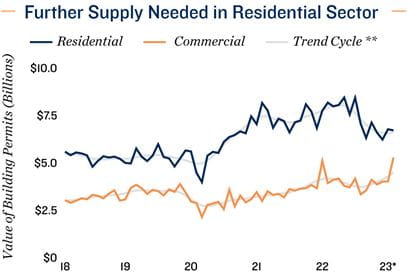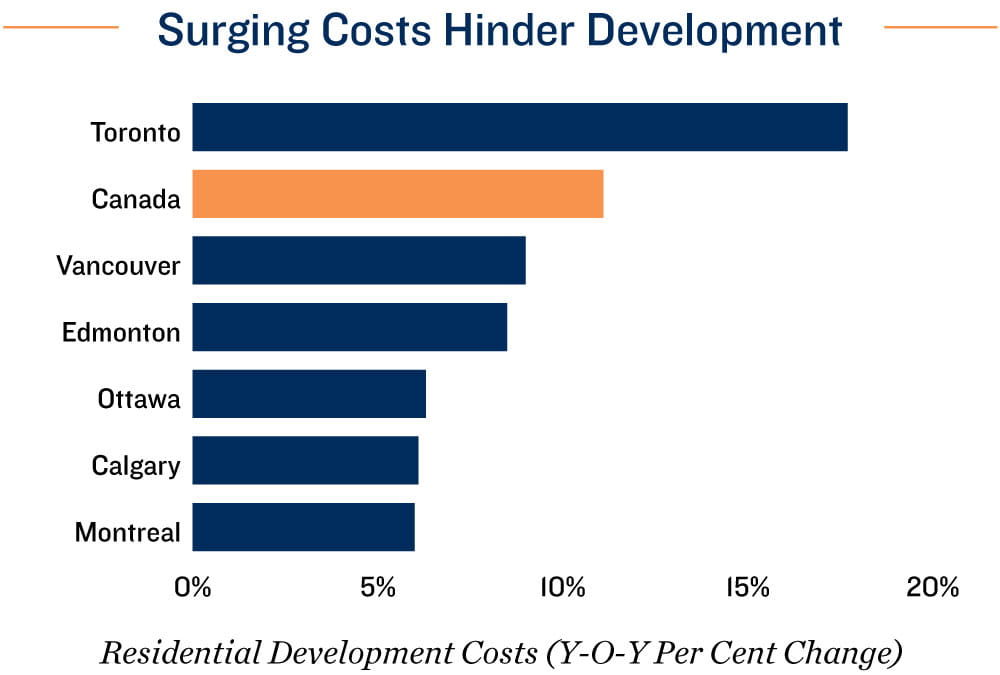 * Through March; ** Smoothed version of seasonally-adjusted time series
Sources: Marcus & Millichap Research Services; Altus Data Solutions; Bank of Canada;
Canada Mortgage and Housing Corporation; CoStar Group, Inc.; Statistics Canada