Research Brief
Industrial
April 2023
Shipping Routes Shift to the Atlantic,
Posing Implications for the Industrial Sector
Western port snags benefit East Coast entrypoints. In 2022, prolonged negotiations between the Pacific Maritime Association and the International Longshoreman and Warehouse Union prompted fears of a port shutdown along the West Coast. A number of shipping operations shifted to the Eastern Seaboard as a result, pushing throughput in the Port of New York and New Jersey above its Southern California counterparts for the first time in multiple decades. Though monthly throughput in Los Angeles has normalized as this hub remains in operation, ongoing negotiations there have kept some retailers at Atlantic and Gulf ports.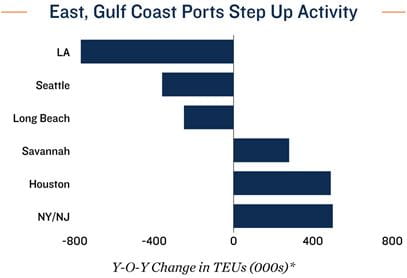 Public infrastructure investment augmenting operations. The Ports of Boston and Philadelphia both inaugurated multi-year enhancements to berthing and throughput capacity last year totaling more than $1.2 billion, with these nodes receiving their first direct routes from China and other east Asian markets as a result. These initiatives exemplify a broader push seen across eastern-facing ports. Farther south, last year's record cargo tonnage entering Savannah and Charleston has necessitated public investment in these locales. A $410 million project underway at the Georgia facility will expand cargo capacity more than 50 percent by 2025.
Recent shifts emblematic of long-term trends. Although the growth of East Coast seaports has accelerated since the onset of COVID-19 and resulting port congestion as health restrictions were lifted, these locales had been steadily gaining momentum over the last two decades. In 2002, approximately 80 percent of transpacific cargo entered the U.S. through West Coast nodes; that figure has fallen to 56 percent just over 20 years later. Moving forward, increasing friction with China, paired with a trend of nearshoring manufacturing often favoring Latin American nations, could accentuate this push eastward. Nevertheless, concern over potential labor disputes at eastern ports has arisen. East and Gulf Coast union talks have already opened pending the active contract's 2024 expiry. However, Southern California points of entry have demonstrated that ports can maintain operations amid labor disputes.
Investment Trends
Lower entry costs facilitate growth in the Southeast. Burgeoning Sun Belt points of entry have drawn heightened industrial property investment, exemplified by record deal flow in places like Charleston last year. In addition to existing assets, logistics firms are competing for available parcels near maritime hubs. This growth is not limited to the coast; Atlanta's wide range of warehouse and distribution assets is supporting robust capital inflows from out of state. Intermodal facilities here connect maritime gateways with the rapidly-growing consumer base of the Upper South.
Farther north, land constraints prompt upgrades. Dense development along the Interstate 95 Corridor will likely prompt investors to seek out assets farther from ports on the northern ends of this route. High land costs in the heavily-populated zones around the Port of New York/New Jersey have justified the construction of multi-story warehouses, even prior to the health crisis. Owners of existing properties in high-demand locales may choose to redevelop if long-term growth remains robust.
| | |
| --- | --- |
| $14.95 | 3.6% |
| Mean Port Market Industrial Asking Rent as of Q4 2022 | Mean Port Market Industrial Vacancy as of Q4 2022 |
* As of 2022
Sources: Marcus & Millichap Research Services; CoStar Group, Inc.; Port of Los Angeles;
Port of Long Beach; Northwest Seaport Allliance; Georgia Ports Authority; Port Houston; Port of New York & New Jersey