Research Brief
Canada Housing Policy
April 2023
Demand-Focused Policy Backfires; More Supply
Needed to Address Affordability Hurdles
Government efforts to foster housing affordability fall short. In Canada, single-family home prices increased by roughly 60 per cent from 2019 to 2022, while the pace of apartment rent growth reached an all-time high of 16 per cent. Consequently, housing affordability remains a challenge for many Canadians. While various levels of government are attempting to address this concern, a historic level of immigration is resulting in Canada's population growth outpacing new housing supply. It is estimated that new home starts need to rise by 50 per cent in order to accommodate the nation's long-term population growth. However, with Canada's housing market softening, new home starts are also slowing. As a result, further government initiative is needed to increase housing development.
Federal government's demand-side policy backfires. In 2023, Canada introduced the Prohibition on the Purchase of Residential Property by Non-Canadians Act in an attempt to alleviate demand-side pressures from foreign buyers. However, this policy inadvertently impacted the commercial real estate sector as non-Canadian investors were banned from purchasing any development land zoned residential, including mixed-use commercial-residential sites. Over the long-term this would impede supply, as it would restrict multifamily development to Canadian-owned companies only. In response, the Federal government amended the act in March. The current version does not apply to all land zoned residential and mixed use, which can again be purchased by non-Canadians for the purpose of development. While this amendment is a step in the right direction, further supply-side policy is needed to increase Canada's housing stock.
Local authorities take action to fill supply gaps. In Ontario, the government launched the More Homes Built Faster Act to construct 1.5 million new homes over the next 10 years. This new policy would increase construction by removing regulatory hurdles and by minimizing development charges. Additionally, Vancouver has also proposed its 3x3x3x1 initiative, which would help eliminate the city's construction backlog by approving home renovations in three days, single-family and townhouse development in three weeks, mid-rise apartments in three months and high-rise multifamily in one year. Lastly, Calgary has introduced the Downtown Development Incentive Program, which is designed to support the conversion of underutilized office space into residential units. Additionally, this policy is further complemented by the Downtown Office Demolition Incentive Program, which subsidizes property owners to redevelop or remove underused office space in order to build residential units.
Further support needed. While provinces and cities across the country continue to implement policies to help alleviate supply-side pressures, further support from the Federal government is needed to make any significant progress. In the recent environment of elevated interest rates and heightened construction costs, many builders moved to the sidelines in order to mitigate uncertainty. Over the long-term, this will have an adverse impact on housing supply and affordability. Consequently, in order to address this growing affordability concern, the Federal government needs to switch focus away from demand-side policy and assist provincial authorities in incentivizing development to bring supply closer in line with demand.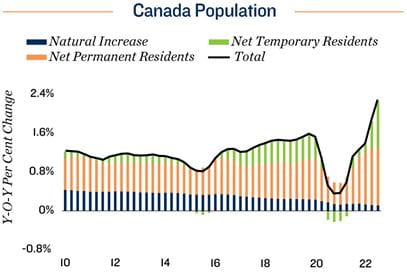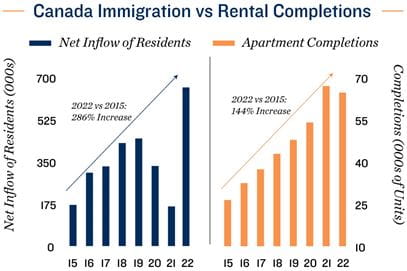 Sources: Marcus & Millichap Research Services; Altus Data Solutions; Bank of Canada;
Canada Mortgage and Housing Corporation; Capital Economics; CoStar Group, Inc.; Statistics Canada