Research Brief
Canada Housing
April 2023
Canada's Housing Market Shows Signs of Life
After Yearlong Decline
Signs of market stabilization become more apparent. After 12 consecutive periods of monthly declines, the average price of a single-family home in Canada increased 0.4 per cent month-over-month in March. Toronto led the way with a 2.3 per cent monthly increase, followed by Vancouver, which saw prices rise 0.5 per cent. With the Bank of Canada holding its policy rate stable for two straight months, positive momentum is beginning to build. Buyers are emerging from the sidelines in hopes of getting ahead of the market and sellers have not yet been forced to sell, as the number of newly-listed properties edged down a further 5.8 per cent month-over-month in March. As a result, the sales-to-new-listing ratio has trended up for four of the last five months, reaching 63.5 per cent in March. This is the tightest Canada's housing market has been in a year as limited supply is providing a price floor. Nonetheless, after a yearlong decline, home prices are down roughly 16.5 per cent annually as elevated borrowing costs curbed buyer enthusiasm and created further affordability hurdles over the course of last year.
Mortgage rates have likely peaked. With variable and fixed mortgage rates trending down since the BoC began its conditional pause in March, it appears home borrowing costs have plateaued and that a cyclical bottom is now forming nationally. New listings continue to trend down, while home prices in Toronto and Vancouver — Canada's two most expensive cities — edged up slightly in March for the first time since early 2022. With borrowing costs likely peaked, an uptick in sales activity is expected to continue. Home prices, as a result, may reach their trough sooner than anticipated.
Commercial Real Estate Outlook
Limited supply aids housing market. Since home prices began to decline in early 2022, residential building activity has slowed. Between March of last year and February 2023, the value of single-family building permits was down roughly 65 per cent, and the value of multifamily permits was down by just over 15 per cent. Furthermore, with the sales-to-new listings ratio trending up, limited supply is acting as a backstop to declining prices. The lack of available supply — coupled with the expected uptick in demand, given the Bank's conditional interest rate pause — may cause housing prices to bottom out sooner than expected. Nonetheless, with borrowing costs likely past their peak, the slowdown in development activity is appearing to level off as the total value of residential building permits rose 7.9 per cent monthly in February. Further government incentive, however, is needed to increase supply as Canada's population continues to grow at a historic rate, causing a supply-demand imbalance to persist within Canada's housing market.
Affordability hurdles redirect demand. In 2022, national apartment vacancy fell 120 basis points to 1.9 per cent, helping rent growth reach 7.3 per cent annually. While limited supply played a key role in the sector's performance, robust demand due to immigration and homeownership challenges aided fundamentals. With historic immigration likely to continue, coupled with a prolonged period of elevated interest rates and rising housing prices, the multifamily sector should continue to experience healthy demand as new arrivals and potential owners are redirected toward the apartment rental market.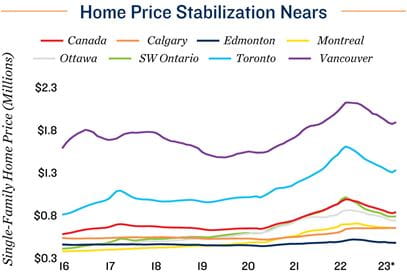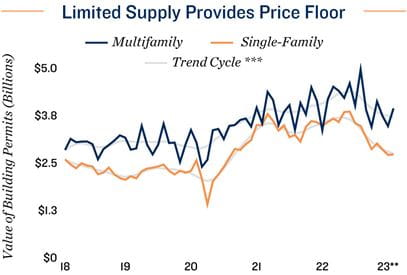 * Through March ** Through February; *** Smoothed version of a seasonally-adjusted time series
Sources: Marcus & Millichap Research Services; Altus Data Solutions; Bank of Canada;
Canada Mortgage and Housing Corporation; Capital Economics; CoStar Group, Inc.; Statistics Canada