Research Brief
Canada Construction
April 2023
Residential Sector Breaks Two-Month Dip,
Advanced by Multifamily Investment
Construction activity experienced uptick. The total value of building permits rose 8.6 per cent monthly in February, indicating strong development intentions for residential and non-residential properties. In the residential sector, while the long-term trend continues on a downward trajectory, it is beginning to flatten as the total value of permits increased 7.9 per cent month-over-month. This rise in the residential sector stemmed from an upward movement in multifamily permits. For non-residential properties, the value of permits advanced 9.8 per cent monthly, with the long-term trend continuing up. While the total value of permits has witnessed a steady decline since borrowing costs began to rise, this healthy gain could be an early indication that some investors are emerging from the sidelines, as it is becoming more likely that interest rates have peaked.
Interest rate stabilization to aid builders. With broad-based indicators suggesting that inflation is continuing to cool, it is becoming more likely that the Bank of Canada will hold its overnight rate at 4.5 per cent. Construction and general investment, as a result, will likely see a boost as interest rate uncertainty abates and market participants absorb this new, higher-cost investment environment. A jump has already been witnessed in the commercial sector, with the value of building permits increasing since the end of the third quarter in 2022. However, the residential long-term trend continues on its downward trajectory. Nonetheless, the value of residential permits is likely to see more positive momentum in the coming months as housing prices are likely to stabilize over that time, which was indicated by February's monthly permitting increase of 7.9 per cent.
Commercial Real Estate Outlook
Limited supply benefiting multifamily fundamentals. In 2022, national apartment vacancy fell 120 basis points to 1.9 per cent, helping rent growth reach 7.3 per cent annually — both of which were the largest changes on record. While healthy demand due to historic immigration played a key role in the sector's performance, limited supply also contributed as new space lagged population growth. Additionally, supply has been further restricted over the past year as rising borrowing costs have curbed new builds. The total value of residential building permits fell roughly 20 per cent from May 2022 to February 2023. Nonetheless, with borrowing costs likely at their peak, multifamily development should increase as investors look to capitalize on strong underlying fundamentals. Further government incentive, however, is needed to increase supply as Canada's population continues to grow at a historic rate, causing housing affordability to remain a challenge for many Canadians.
Industrial developers trying to keep pace with demand. Since the onset of the global health crisis in early 2020, national industrial vacancy dropped 80 basis points to 1.1 per cent as of the end of 2022, which caused the average asking rent to increase 32 per cent. As a result, industrial permitting has been on an upward trend ever since as investors attempt to keep pace with demand and capitalize on robust rent growth. The total value of building permits has nearly doubled since early 2019. While industrial demand is expected to soften as elevated interest rates are fully absorbed by the market, fundamentals should remain extremely healthy. This should spur further construction now that borrowing costs are likely to stabilize.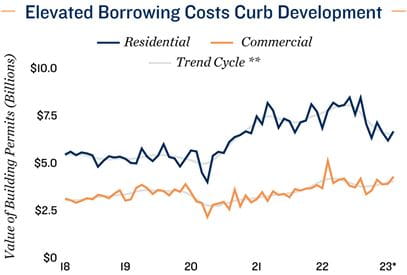 * Through February; ** Represents a smoothed version of a seasonally-adjusted time series
Sources: Marcus & Millichap Research Services; Altus Data Solutions; Bank of Canada;
Canada Mortgage and Housing Corporation; Capital Economics; CoStar Group, Inc.; Statistics Canada