Research Brief
Canada Retail Sales
March 2023
Household Spending Starts the Year Off Strong;
Food-Related Retail Remains Well-Positioned
Consumer spending ticks up, despite ongoing uncertainty. National retail sales rose 1.4 per cent month-over-month in January, which, after accounting for inflation, resulted in a 1.5 per cent increase in total volume. This was nearly double the preliminary estimate. Despite elevated borrowing costs and inflation, consumption beat market expectations to begin the year, which likely implies that Canada's GDP returned to positive growth territory in the first quarter of 2023. Nonetheless, while consumer confidence has recovered since the Bank of Canada's conditional interest rate pause in January, it remains well below its long-term average, implying downside risk that retail sales may soften over the coming months. Related commercial real estate property types, however, are well-positioned to withstand a short-term slowdown as fundamentals remain healthy for almost all property types.
E-commerce sales reverting to long-term trend. Online sales continued to remain elevated when compared to pre-pandemic times. As of January, e-commerce accounted for 5 per cent of total retail sales, which is nearly 200 basis points above the 2019 level. Still, with pandemic-related restrictions largely eliminated, e-commerce activity has softened as in-person shopping has regained momentum. As a result, online sales are down nearly 25 per cent when compared to the March 2021 peak and have experienced five consecutive monthly declines. However, with many retailers adapting to changing consumer behaviour and a larger demographic now familiar with online shopping, it is likely that e-commerce sales will remain elevated.
Commercial Real Estate Outlook
Demand for food-related retail persists. Sales velocity of retail properties have fared better during the recent market disruption, due to high yields and sound fundamentals. Grocery-anchored retail — as well as other single-tenant, non-discretionary retailers — were in particularly high demand, due to the essential nature of the products offered and the well-covenanted tenants that tend to occupy these spaces. Looking ahead, this sentiment could continue as lower real disposable incomes will minimize discretionary spending and shift demand toward essential products. In January, grocery retail sales were up 3.3 per cent year-over-year and should remain stable as the year progresses. Nonetheless, some discretionary sectors have performed well, such as bars and restaurants. Sales have increased by an average of 3 per cent monthly, while witnessing double-digit annual growth since the economy reopened in early 2021.
Industrial demand to remain stable. Although e-commerce-related leasing may soften due to the return of in-person shopping and tightening consumer budgets, new demand drivers are emerging within the industry. Canada's manufacturing sector has witnessed healthy job gains in recent months and will act as backstop to softening e-commerce-related demand over the coming years. As easing supply shortages allow for quicker access to input materials throughout the manufacturing process, goods are able to be produced at a faster pace. This was shown in January by the 3.0 per cent month-over-month rise in motor vehicle sales. Additionally, as companies and manufacturers look to mitigate future supply chain risk, the continued uptick in onshoring will also aid long-term demand.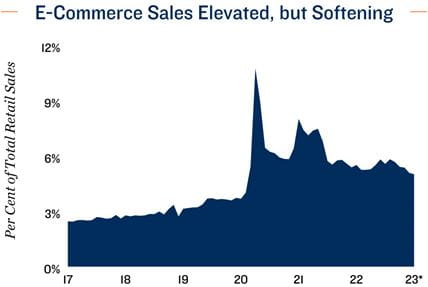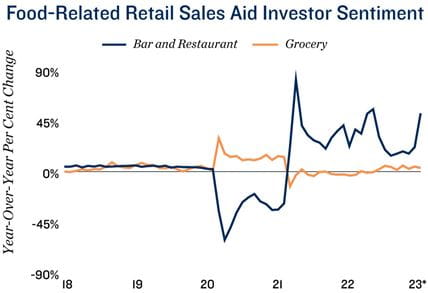 * Through January
Sources: Marcus & Millichap Research Services; Altus Data Solutions; Bank of Canada;
Canada Mortgage and Housing Corporation; Capital Economics; CoStar Group, Inc.; Statistics Canada