Research Brief
Portland Multifamily Rent Outlook
October 2022
Rent Control Debate Re-Emerges in Oregon,
Although Portland Rent Growth Falls Under Cap
Rent cap discussion largely ignores market trends. Gov. Kate Brown is eager to revisit Oregon's maximum yearly rental increase, after elevated inflation this year placed the 2023 cap at 14.6 percent. While a surge in renter demand last year propelled Portland's average effective rent up by 13.5 percent in 2021, rates are unlikely to rise by that much going forward. Growth has slowed since March amid two consecutive quarters of negative absorption, and will close this year near 10 percent, still well above the 3.8 percent long-term average. Looking to next year, a sizable construction pipeline and a quieter hiring outlook will keep rent growth closer to historical norms. Unless the state's rent cap is revised substantially downward, the limit is unlikely to factor into rent changes in 2023.
Stricter rent control could shift supply. While current rental restrictions do not apply until a property is 15 years old, stronger rent controls would deter new supply in Portland proper and nearby Oregon suburbs. Already, a higher frequency of groundbreakings are occurring north of the Columbia River, as roughly one-fourth of the units started on this year are slated for Vancouver. Washington's absence of a state income tax is also bolstering the outlook for these builds. A further restriction on Oregon supply could enhance leasing for existing stock on that side of the market over the long term.
Key Points
Signed in February 2019, Oregon Senate Bill 608 caps annual statewide rent increases at 7 percent, plus the average CPI measure of inflation.

Properties under 15 years of age, and properties where the landlord is providing reduced rent as a part of a program or subsidy, are exempt.

The bill also restricts tenant evictions by enforcing regimented notices with longer timelines.

When originally passed, CPI inflation was at 3.3 percent. Over the past year, this measure rose to 7.6 percent, bringing the 2023 cap to 14.6 percent.

Oregon Gov. Brown urged legislators to revise the 2023 maximum rental increase before year-end, suggesting that CPI inflation is no longer an acceptable measure for Oregon rental controls.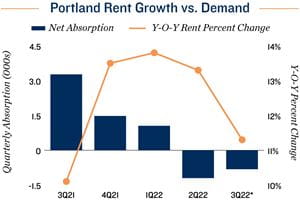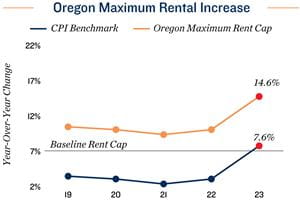 * Preliminary data through September. Note: CPI benchmark is shown for the year in which it applies to rent control.
Sources: Marcus & Millichap Research Services; Bureau of Labor Statistics; Federal Reserve;
RealPage, Inc.; Rental Housing Journal; Oregon Department of Administrative Services