Research Brief
Canada Housing
August 2022
Home Sales and Prices Continue to Fall;
Multifamily Demand Remains Robust
Rising interest rates continue to impact housing market. In July, the Bank of Canada increased its overnight rate to 2.5 per cent. This was the fourth rate hike this year and it quickly influenced the housing market. The five-year fixed mortgage rate has increased to the 5.5 per cent range and the variable rate has also climbed, inching closer to 5.0 per cent. This has slowed home sales, reducing them by 6.2 per cent month-over-month in July, and the average single-family home price followed, declining 2.1 per cent. However, the average price is still 10.2 per cent higher compared to July of last year. Prices in Toronto have been impacted the most and are 7.0 per cent below the level witnessed at the start of 2022. In the same time span, the average price in Ottawa fell 1.0 per cent, Montreal declined 1.0 per cent and Vancouver fell by 0.5 per cent. These losses stem from rising interest rates, coupled with already elevated prices. This is slowing housing demand by pushing potential homebuyers to the sidelines and shrinking the buyer pool, while at the same time redirecting them toward the rental market.
New construction remains robust. The fall in home sales has yet to make any meaningful impact on construction activity. Housing starts increased in July, up 15 per cent month-over-month. However, new home sales have plummeted, suggesting pre-construction demand is falling and home starts are likely to follow. In the long-run, this will exacerbate Canada's housing supply imbalance and hinder affordability and homeownership potential. This reinforces the importance of the multifamily sector to help mitigate housing shortages in Canada.
Developing Trends and CRE Outlook
Mortgage rates surpass pre-pandemic level. Since the onset of the health crisis, variable mortgage rates have grown in popularity, now accounting for over 50 per cent of new mortgages. With the BoC's July interest rate hike, both variable and fixed rate mortgages have now eclipsed their pre-pandemic peaks, with variable rates ranging from 4.25 to 4.75 per cent, and fixed rates ranging from 5.00 to 5.50 per cent. This not only increases the risk of defaults, which would cause prices to fall, but also hinders the ability of many households to purchase a home as mortgage payments expand out of reach, in turn slowing demand. Additionally, with inflation still well above the Bank's target rate of 2.0 per cent, it is likely the BoC will increase its overnight rate again in September, exacerbating the spread between mortgage payments and apartment rents. This large discrepancy emphasizes the challenges many Canadians face and further highlights the need for rental properties.
Demand for apartments remains strong. Even with housing prices beginning to fall, homeownership is still out of reach for a growing share of Canadians. The average price is still 50 per cent higher than July 2019, when affordability was already a challenge. Now, not only are prices out of reach for many, mortgage payments are also less obtainable, causing potential homeowners to remain in the rental market. With consumers tightening their budgets and slowing down spending due to rising costs, it has resulted in strong multifamily performance. The national vacancy rate in Canada is expected to end the year at 2.7 per cent, and rent growth at 5.9 per cent. These sound underlying fundamentals support a strong investment outlook.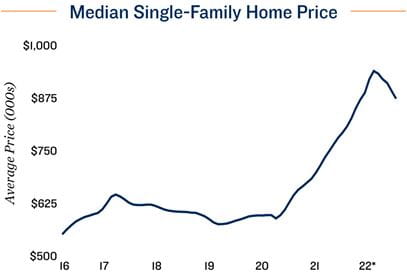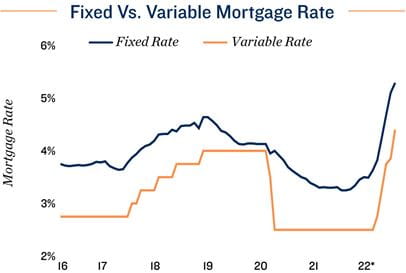 * Through July
Sources: Marcus & Millichap Research Services;
Bank of Canada; Capital Economics; Statistics Canada; CoStar Group, Inc.; Altus Data Solutions