Research Brief
Canada Inflation & Retail Sales
July 2022
Inflation Continues to Rise, but Moderating
Pace of Growth Shows Encouraging Signs
Upward price movement continues, but future outlook is promising. Canada's Consumer Price Index rose by 8.1 per cent annually in June, a 40 basis point increase from May. This is below the market expectation of 8.4 per cent, which was mostly driven by the smaller rise in food prices. Although inflation is at a multidecade high, price gains are slowing across almost every category. As a result, industry forecasts are beginning to shift and inflation could continue to slow in the coming months. Nonetheless, the Bank of Canada still intends to prevent further rises in inflation expectations, and will likely continue to increase its overnight rate through 2022. The current environment of increasing prices and rising interest rates impacts select real estate assets to varying degrees.
High turnover assets act as a potential hedge for inflation. Historically, CRE has been an appealing asset in periods of high inflation as underlying values tend to be insulated from price volatility. Assets with high turnover rates, such as hospitality and multifamily, tend to be more resilient as rents are able to be reset on a daily and yearly basis, respectively. This allows owners to re-align rental income with increasing input costs to match the macroeconomic environment. Despite initial challenges following the onset of the health crisis, hospitality has performed well. Average daily rates have returned to the historic highs seen in August 2019, and revenue per available room is only 10 per cent below. Additionally, multifamily vacancy has been trending downward, and average rental rate growth has ranged from 4 per cent to 8 per cent year-over-year across the nation's major metros. However, rent control in Canada's largest markets, such as Toronto, Vancouver and Montreal, can keep rent gains below the pace of inflation for certain properties.
Accelerating costs influencing the traditional CRE market. Accelerating costs influencing the traditional CRE market. Canada's office and industrial markets usually have leases ranging from five years to 15 years, reducing the ability of owners to reset rents on a frequent basis. This can cause rental income to lag behind rising input costs, resulting in lower net incomes and slowing property values. Rising inflation and interest rates also affect the demand for these properties as companies with substantial space commitments may consider downsizing their footprint, or moving down the quality scale in order to allocate capital to different areas of their business. Nonetheless, when these assets have upcoming lease expirations, owners should benefit from the current environment as they will be able to move rental rates up by a notable margin to align with the market. Both of these asset classes, despite the dichotomy in performance between office and industrial assets during the health crisis, have experienced positive rental growth and increasing average sale prices over the yearlong period ending in June.
Retail sales continue to rise, even in the face of high inflation. Retail consumption remained strong in May, seeing a 2.2 per cent increase month-over-month to a total sale value of $62.2 billion. Higher prices is one factor causing this increase, but the overall quantity of exchanges was also up 0.4 per cent month-over-month, showing that despite higher prices, consumers are still willing to spend on retail goods. Property fundamentals are above 2019 levels and should continue to remain strong for the remainder of the year. However, it is important to note that consumer confidence is beginning to drop in the face of higher interest rates, and it is expected that retail dollar volumes and quantities will begin to slow.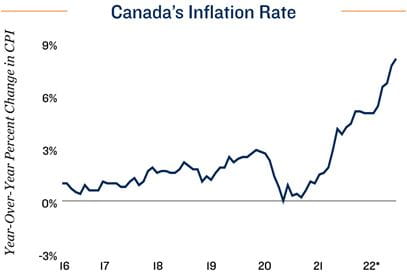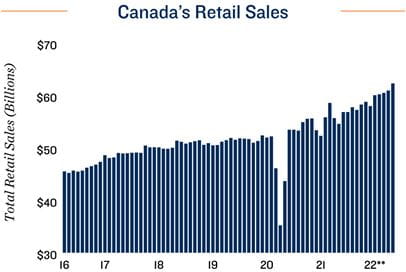 * Through June
** Through May
Sources: Marcus & Millichap Research Services;
Bank of Canada; Capital Economics; StatCan; CoStar Group Inc.; Altus Data Solutions