Research Brief
Canada Employment & Monetary Policy
July 2022
Unemployment Reaches New Historic Low;
Bank of Canada Aggressively Fighting Inflation
Unemployment continues to fall, but for unconventional reasons. The unemployment rate dropped to 4.9 per cent in June, a 20 basis point decrease from May. However, it did not fall because of strong job creation, rather 100,000 people stopped their job search, with Canada's employment tally falling by 43,000 positions in June, again outlining the labour shortage issue. As a result, wages have surged, growing 5.2 per cent annually. This is one reason why the BoC is continuing its aggressive fight against inflation, raising its overnight rate by 100 basis points in July.
Industrial real estate continues its strong performance. Industrial space-using firms are rapidly expanding in Canada, led by the goods producing sector, followed by construction, transportation and warehousing, and manufacturing. The impact on space demand has been acute, net absorption for the first half of 2022 reached 900,000 square feet and vacancy remained at an all-time low of 1.1 per cent. As a result, Canada has seen average effective rates increase by 9.4 per cent year-over-year as of June. Growth was even more extreme, exceeding 15 per cent annually in metros with supply shortages like Toronto and Montreal. The overall sector is leading the way in job creation and wage growth potential, contributing to the BoC's decision to significantly hike interest rates.
Job losses in hospitality sector despite room demand surge. With pent-up demand for travel showing its full effect, it is counterintuitive to see the accommodation and food service sector losing 11,000 jobs in June. Hospitality fundamentals are improving, with the average daily rate up 44.6 per cent, and revenue per available room up 159.6 per cent annually. The employment setback in June runs counter to trends seen in past cycles of positive room demand momentum. However, hospitality is one of the lowest paying job sectors, and the tight labour market is allowing these people to move to higher-paying occupations. This factor is contributing to wage growth and the BoC's response to rising prices.
Monetary Policy Response & CRE Outlook
Bank of Canada remains hawkish, with largest hike in nearly 25 years. Despite the dip in employment, the labour force shrinking and GDP contracting in May, the BoC raised its overnight rate by 100 basis points in July in an attempt to combat the 7.7 per cent inflation rate seen in May. This is the largest rate hike in nearly 25 years, with the overnight rate now sitting at 2.5 per cent — the highest the Canadian policy rate has been since prior to the 2008/2009 financial crisis. There are five main drivers causing prices to rise at such an elevated pace: the supply chain issues stemming from consistent shut downs in China and the war in Ukraine, fiscal stimulus injected during the pandemic, the historically tight labor market, and consumers' long-run inflationary expectations. These factors, and particularly the surge in wages, signal that there could be further upward price pressure ahead, in turn causing the BoC to take such a hawkish approach in July. Further interest rate hikes are expected in September.
Higher interest rates expected to impact multifamily fundamentals. Home affordability is becoming more of a challenge for adults looking to purchase their first home and others looking to remain in the homeownership market. With rising interest rates, it is now harder for young adults to qualify for a mortgage, as well as current families being able to pay off existing mortgages as debt service payments are significantly increasing. In turn, this will redirect potential homebuyers toward the rental apartment market. Higher interest rates do not solely affect the demand side of the equation, but also the supply side, as it is now becoming more expensive for developers to construct new buildings, thus slowing potential new developments in a nation that is already experiencing severe housing shortages. This increase in demand, coupled with the potential moderation in supply, will result in strong rental rate growth for the foreseeable future, making existing apartment buildings an attractive investment vehicle.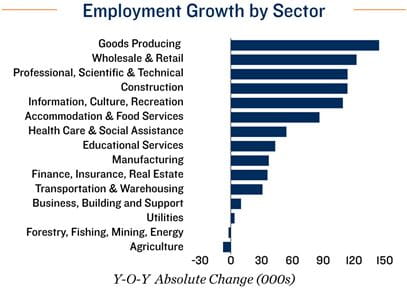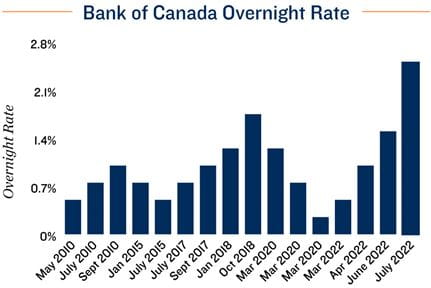 Sources: Marcus & Millichap Research Services;
Bank of Canada; Capital Economics; StatCan; CoStar Group Inc.; Altus Data Solutions