Research Brief
Canada Central Bank
June 2022
Central Bank Lifts Key Policy Rate For a
Third Time, Indicates Greater Hikes Ahead
Bank of Canada maintains aggressive stance to battle inflation. As previously messaged, the Bank of Canada is following through on its plan to raise the overnight rate multiple times, in an attempt to stymie historic inflation. The most recent 50-basis-point hike on June 1 was the third elevation this year and the second of this magnitude. Based on the central bank's June statement, additional increases are in store as the year progresses, with a 75-basis-point jump on the table at their next meeting in July. This aggressive response comes amid lingering upward pressure on the price of goods and services, driven by supply chains disruptions, geopolitical conflict, fiscal stimulus and a rapid economic recovery. The consumer price index hit a three-plus decade high in April at 6.8 per cent, above the target range for over a year now.
Select segments of real estate outperform in current climate. Commercial real estate assets, in general, tend to retain their values better than most other investment options in a high inflation environment. The multifamily, self-storage and hospitality segments, in particular, are in a stronger position as they can recalibrate rents more often over a shorter duration. Demand drivers for these asset types are also improving. A growing population buoyed by immigration alongside robust job growth supports household formation, aiding demand for apartments and self-storage. Meanwhile, looser travel restrictions should release pent-up demand for getaways, boosting hotel occupancy rates.
Economic Considerations
Sturdy labour market reduces recession risks. Higher interest rates can weigh on economic growth, which is a trade-off the central bank will need to balance as it moves to tame inflation. Recent economic indicators suggest that a recession is not imminent, however. The addition of more than 215,000 jobs during the first four months of 2022 brought the national headcount more than 500,000 roles above the 2019 level. Unemployment also dropped to the lowest mark in more than 40 years to 5.2 per cent in April, evidence that the labour market is stout enough to endure some turbulence. Nonetheless, consumer sentiment fell to a 17-month low in May, largely tied to a swift reversal in the housing market as mortgage rates swelled.
Immediate impact falls on single-family housing. Increased borrowing costs promptly cooled the housing market after an extended period of price run-ups. The number of home sales weakened by almost 13 per cent month-over-month in April, producing the first benchmark price decline in two years. Even so, for-sale inventories remain very tight while prices and now borrowing costs have moved up significantly, which will facilitate robust demand for rentals.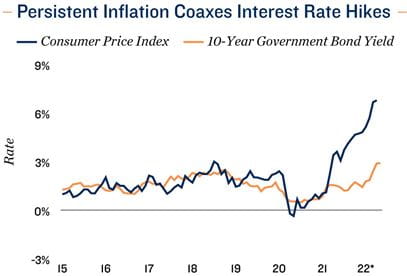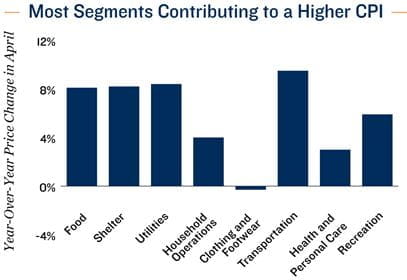 | | |
| --- | --- |
| 1.50% | 0.25% |
| Key Policy Rate in June 2022 | Key Policy Rate in June 2021 |
* CPI Through April; Bond Yield Through May
Sources: Marcus & Millichap Research Services;
Bank of Canada; Bloomberg Nanos; Canadian Real Estate Association; Capital Economics; StatCan