Roughly 40 percent of job losses recovered by June.
The momentum generated in the labour market in May carried through to June with the creation of 952,900 jobs last month, bringing the unemployment rate down 140 basis points. Over the past two months, payrolls increased by more than 1.2 million as the nation reopened and workers were rehired, a 7.7 percent gain; however, employment in June was still 1.8 million lower than in February. The start to the recovery in the labour market has been stronger than previous economic downturns and should continue to improve over the next several months as more restrictions are pulled back. Much of the Greater Toronto Area remains in the early phases of reopening and as more businesses restart operations, the resumption of activity will help the nation dig out from the economic impact of the pandemic.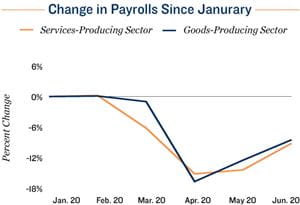 Support still available for property owners and small-business tenants. The forced closure of restaurants and retailers was particularly challenging for the services sector, though strong government support for businesses and individuals has bolstered the initial recovery. The rapid rebound in employment, in addition to the Canada Emergency Commercial Rent Assistance program, will help lower defaults and sustain stable property metrics. The fiscal package was extended through July and provides property owners a fully forgivable loan for up to 50 percent of rent for small-business tenants unable to make full payments.
V-shaped recovery of goods-producing sector builds optimism. Housing starts climbed 8.3 percent in June as more construction workers returned to job sites, carried higher by multifamily projects in Toronto and Montreal. Construction employment in June was at 89.3 percent of the February total, while strong gains in manufacturing brought payrolls to 91.9 percent of February levels. A bounce back of these goods-producing industries supports a broader economic recovery, and will bolster property markets as developers make up for lost time and reopened factories support demand for industrial space up and down the supply chain.
Developing Trends
Evolving consumer patterns fuel job gains in wholesale trade.
E-commerce adoption soared as stay-at-home orders shifted consumer behavior, expanding online sales in April by 120.3 percent to account for 9.5 percent of total retail sales, the largest share on record. A long growth trajectory for the sector will support job gains at logistics and distribution facilities, which will make up for some of the positions that will not be recovered at traditional brick-and-mortar locations.
Longevity of remote work starting to fade. The ability to work from home was critical for office positions in the early months of the pandemic and has raised questions over the long-term impact on office demand. While some companies have announced greater flexibility for remote work, most companies are not likely to adopt this model. This is evident by the 400,000-person decline in Canadians working from home in June, and the 2 million increase in those working from locations other than home.
| | |
| --- | --- |
| 952,900 | 12.3% |
| Jobs Added in June 2020 | Unemployment Rate as of June 2020 |
Sources: Marcus & Millichap Research Services; Statistics Canada