Canadians slowly return to work as restrictions are lifted.. Employers added 290,000 jobs in May as the economy bounced back to life, though large challenges and a long road to recovery lie ahead. Economic shutdowns resulted in job losses of more than 3 million in March and April, far exceeding the 426,500 jobs lost from the 2007-08 financial crisis. The unemployment rate reached a post-war high of 13.7 percent in May, presenting substantial challenges in addition to the potential for a second virus outbreak. Last month's employment gains were led by Quebec, where restrictions were lifted earlier than other provinces, building optimism as the nation advances through the health crisis.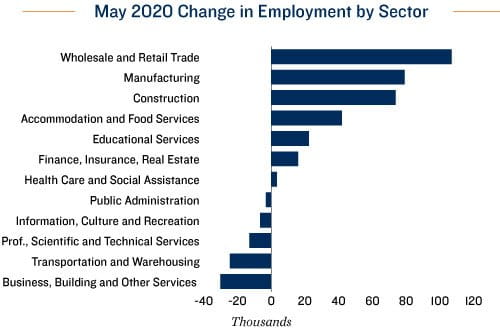 Job gains laying the groundwork for gradual recovery. Activity picked up in the construction and manufacturing sectors as workers returned to job sites and factories reopened, adding back 73,700 and 79,100 jobs, respectively. Much of the construction gains were in residential building as housing starts climbed back to pre-virus levels last month, supporting a broader economic recovery. Job growth in the sector will also help to keep more commercial projects on track this year, though some deliveries will still be pushed into 2021. With manufacturing production ramping up, industrial properties will continue to perform well as they have already proven to be resilient through the health crisis as Canadians accelerate adoption of ecommerce.
Businesses eager to reopen. A considerable increase was registered in the wholesale and retail trade segment with 107,000 workers rehired as the provinces slowly allow retail stores and other services to resume. Last month's job gains build momentum for the economic recovery and may lift consumer confidence to encourage spending. As more businesses resume activity and Canadians become more comfortable with shopping and dining out, this will bolster property fundamentals in the hard hit retail sector. Heavy debt loads for some firms though will push them over the edge, driving store closures and bankruptcies to pressure vacancy higher in certain segments.
Developing Trends
Some property owners eligible to receive financial support. A broad fiscal stimulus package has helped businesses to maintain operations, avoid layoffs and rehire employees. The Canada Emergency Commercial Rent Assistance program provides assistance to property owners with small business tenants facing financial hardship. The aid package covers 50 percent of monthly rent for April, May and June, with the tenant paying up to 25 percent of their share and the remainder being forgiven.
Temporary lay-offs a bright spot for the recovery. A much larger share of those currently unemployed than prior downturns are classified as temporarily laid-off, strengthening the employment outlook as many should return to work soon. In May, there were 1.1 million workers on temporary lay-off, many of which will likely be back on payrolls by next month as the lockdowns are lifted. The resumption of economic activity bodes well for all asset classes and will bring investors off the sidelines should trends continue.
| | |
| --- | --- |
| 290,000 | 13.7% |
| Jobs Added in May 2020 | Unemployment Rate as of May 2020 |
Sources: Marcus & Millichap Research Services; Statistics Canada