Global health crisis causes shock to labor market. Social-distancing measures and the closure of many businesses to stem the spread of COVID-19 have forced companies to temporarily lay off workers, contributing to 1.01 million lost jobs in March. These events have also led to a dramatic shift by consumers to e-commerce and necessity retailers. Some firms are scrambling to fill positions as they grapple with a surge in demand, which will offset some of the losses. Recently enacted fiscal stimulus will provide economic relief through this unprecedented period.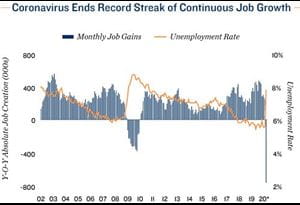 Government measures expand unemployment benefits. Ottawa announced a stimulus package totaling more than $200 billion that injects cash into the economy through wage subsidies, government-backed loans, tax deferrals, and grants to help individuals and companies weather the current economic storm. A key component of the new measure is an expansion of the employment insurance benefit that will help those who have lost work due to COVID-19. The Canada Emergency Response Benefit provides those directly impacted with $500 per week for up to 16 weeks, which could be enough to fully replace the wages of low-wage workers who have been hit the hardest.
New programs aim to shore up small businesses. Companies that have registered a sharp reduction in revenue as a result of COVID-19 are eligible to receive aid under the Canada Emergency Wage Subsidy. The subsidy will cover up to 75 percent of an employee's salary and wages, a maximum benefit of $847 per week over a 12-week period starting March 15. Firms of all sizes across all sectors are eligible to receive the subsidy. To qualify, a company must have recorded at least a 15 percent drop in revenue in March and a 30 percent fall in April and May. Small and medium-sized enterprises that are in need of additional aid to maintain operations and keep workers on staff can tap into the Canada Emergency Business Account. The benefit provides businesses that paid between $50,000 and $1 million in total payroll last year with a loan of up to $40,000 with 0 percent interest.
Developing Trends
Unemployment rate rises as coverage grows. The jobless rate jumped 220 basis points to 7.8 percent in March, the largest single-month increase in records going back to 1976. Unemployment is likely to trend higher over the coming months as the full impact of layoffs is recorded in upcoming surveys. The expansion of unemployment benefits under the stimulus package could contribute to a higher unemployment rate.
1.01 million

7.8%

Jobs Lost in March 2020
Between Dec. '19 and Feb. '20

Unemployment Rate as of March 2020
*Through March
Sources: Marcus & Millichap Research Services; Statistics Canada
Coronavirus forces spending changes, creates demand for jobs. Widespread stay-at-home orders and restrictions on gatherings have prevented consumers from spending money in ways they normally would. This shift has heavily impacted grocery stores, pharmacies, and direct-to-consumer delivery providers. Businesses including Walmart, Amazon, and Shoppers are adapting to new safety practices while meeting heightened demand, creating an immediate need for more labor. To fill hundreds of thousands of open positions, recruiters will turn to the recently unemployed.